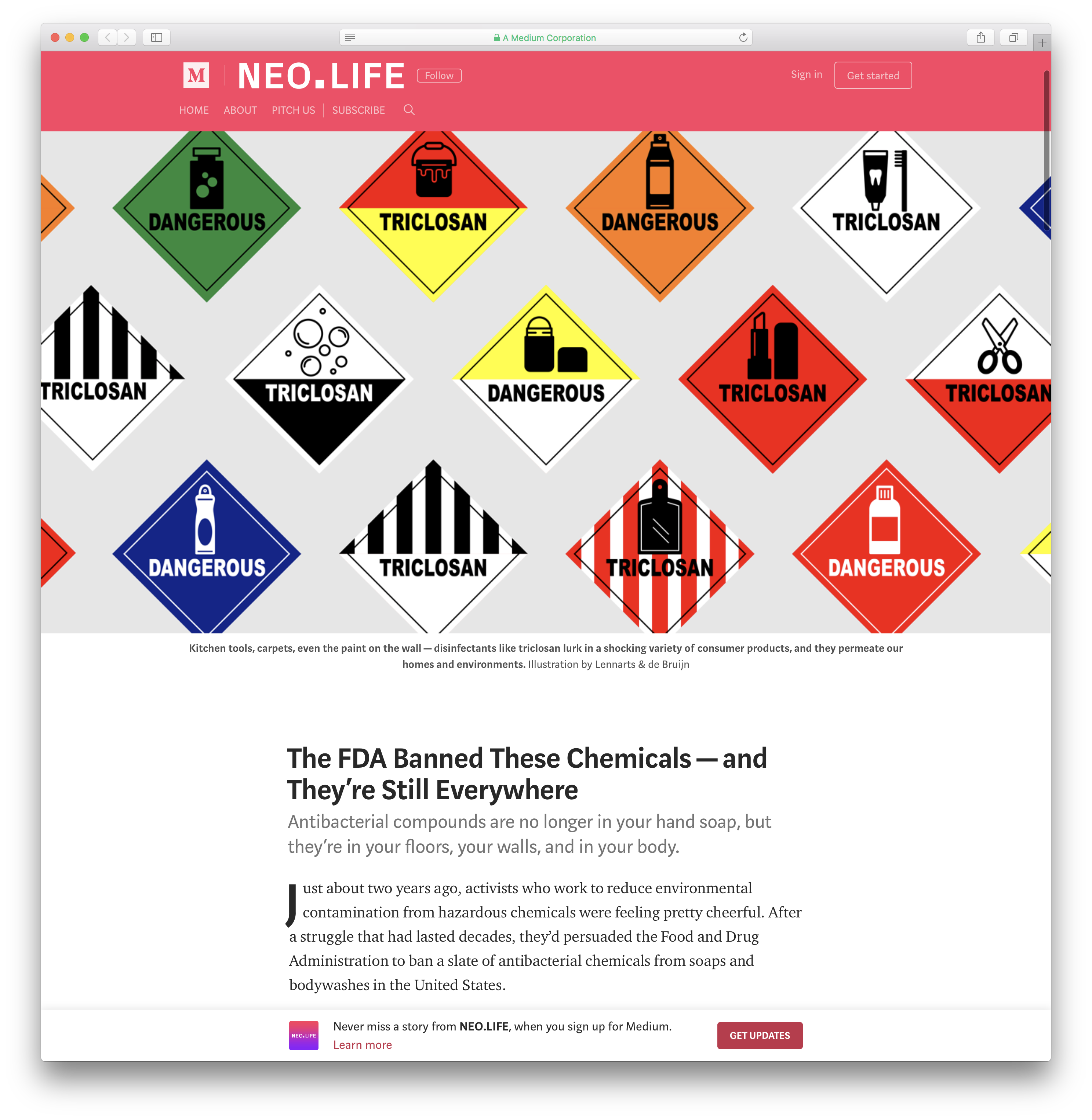 TRICLOSAN
Illustration
Neo.life
Illustration for Neo.life for an article on hazardous chemicals.
Kitchen tools, carpets, even the paint on the wall — disinfectants like triclosan lurk in a shocking variety of consumer products, and they permeate our homes and environments. The FDA Banned These Chemicals — and They're Still Everywhere. Antibacterial compounds are no longer in your hand soap, but they're in your floors, your walls, and in your body.
Just about two years ago, activists who work to reduce environmental contamination from hazardous chemicals were feeling pretty cheerful. After a struggle that had lasted decades, they'd persuaded the Food and Drug Administration to ban a slate of antibacterial chemicals from soaps and bodywashes in the United States.

The rap on the chemicals — especially the best-known and most common ones on the list, triclosan and triclocarban — was that hundreds of pieces of scientific research revealed they did more harm than good to humans and to the environment. Mouse studies suggested that these bacteria-killing compounds might affect hormone production and damage the microbiome, and they appeared to contribute to antibiotic resistance. Moreover, cleansers with these chemicals were no better at killing infectious bugs than plain soap and water.
Client: Neo.life
Design: Lennarts & De Bruijn
Read article
We make big, bold and beautiful work varying from visual identities to communication design, from online to offline. We are always open for new business and collaborations.

→ Lennarts +31 (0)6 42 80 79 66
→ De Bruijn +31 (0)6 36 09 71 29



→ Calandkade 157

2521 AA, Den Haag

→ Internship:

Please send us a portfolio and CV to

(Currently no spot available from untill June)